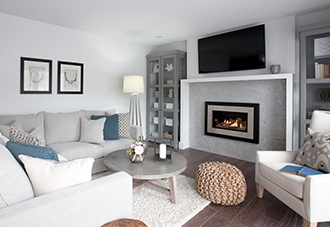 Gas Inserts
A Gas insert is installed into an existing masonry fireplace. If needed, our crew will uninstall and dispose of (if desired/ applicable) fireplace doors, lock top dampers, woods inserts, or existing gas inserts or gas log sets. Most inserts now include two 3" aluminum liners, which allows the insert to not only vent out, but draw air from the outside as well. Inserts come in a range of sizes to fit into an existing opening, and the options and decor of these units can be either modern or traditional.
Available Brands: Napoleon, Regency, Valor, Ambiance, Fireplace Xtrodinaire, Lopi.
Gas Stoves
Freestanding stoves are a popular choice for cottages and basements. Available in direct vent or b-vented models (which allows you to vent up into an existing masonry chimney), these units prove to be versatile and efficient. The direct vent models vent through the wall or roof. The vent draws its combustion air from outside, and vents into the same outside atmosphere, which means it won't draw your warm air out, and won't compete with other appliances. These units come in a variety of shapes and sizes and most only require a noncombustible floor directly underneath the unit.
Available Brands: Napoleon, Regency, Valor, Hearthstone, Jotul, Lopi.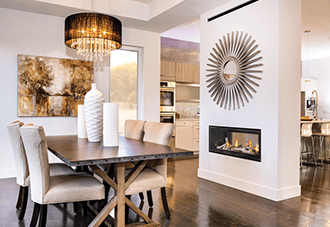 Linear Fireplaces
Linear Gas Fireplaces are the latest and modern fireplace trend. Linear fireplace are rectangular-shaped gas fireplace  that is usually installed within a wall. These fireplace are flawless and can be finished off with your contemporary and or modern looks, depending on your taste.
Available Brands: Contact Us
"Corbin and Mike did a great job installing our new gas fireplace. They were both polite, neat and professional. The installation was completed efficiently with no issues. They cleaned up afterwards, answered all our questions and walked us through how to operated our new unit. We are very happy with our whole experience dealing with Village Fireplace"
- Tom S.
"Amanda was a pleasure to deal with and very knowledgeable and respectful. Excellent Salesperson kind and considerate, trustworthy you know you called the right place. She hooked me up with Jason a 30 year napoleon fireplace expert. Jay is a very professional Technician He serviced my fireplace with great care and precision. Jay troubleshooted and got my propane fireplace working like new. Like as if it was his own. I highly recommend this family company. Thanks for outstanding service.
Tony V (Gentleman Farm and Sales)."
- Tony V.
"We purchased a wall mounted, electric, multi sided fireplace from Village Fireplace. Very pleased with the overall buying experience and the product itself.
Professional, knowledgeable service from initial consultation to eventual installation. Thanks Village Fireplace for another job well done!"
- Bert & Cindy R.
"Love my fireplace and custom mantle
Thank you to all the staff from installing my fireplace. My bbq. Water heater. To servicing all my equipment furnace and ac too. Great company reliable trustworthy keep up the good work"
- Pauline R.
"The entire process from sales, estimating and installation all handled very professionally. All promises kept.
I would definitely recommend these folks."
- rick S.
"Had the boys come and install my new fireplace, they were very polite and professional. From the estimator to the girls in the office my experience was fantastic. Will definitely recommend a Village Fireplace Shop and will use them for all my future fireplace and HVAC needs.
Hope to see you again Charlie."
- Ruth S.
"I want to personally thank A Village Fireplace Shop for the installation of my fireplace yesterday. My fireplace is better than I could imagine, the girls in the office were kind, welcoming and informative Camilla and Crystal. Tina and Amanda, thank you both for working around our busy schedules. Offering to come out to our home late more than once and helping me envision this job in detail. This meant so much to us . To the installers….WOW, you were professional, respectful, and detailed oriented on what steps you were doing next and making sure our little guy had a part of finishing up the final details. He will talk about this for days. If you want a team that works like family, that is efficient, tidy, call A Village Fireplace Shop, they take pride in what they do, you won't be disappointed. Until my next project
Heather and Jim Smith"
- Heather S.
"Extremely pleased with the professionalism of Scott. He quickly diagnosed and repaired one of our gas fireplaces and also installed a thermostatically controlled unit for us. The price was much less than expected! Thank you Village Fireplace!"
- Lorne G.