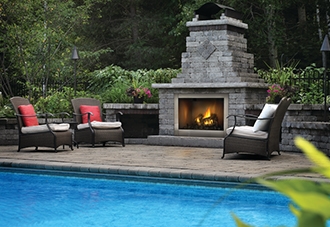 Outdoor Fireplaces
Outdoor fireplaces are becoming an increasingly popular option when completing that perfect backyard oasis. From the more common open-burner style (often accented with half-glass to stop wind blowouts), to sealed glass units with outdoor conversion kits, the design options are limitless.
"Corbin and Mike did a great job installing our new gas fireplace. They were both polite, neat and professional. The installation was completed efficiently with no issues. They cleaned up afterwards, answered all our questions and walked us through how to operated our new unit. We are very happy with our whole experience dealing with Village Fireplace"
- Tom S.
"I called the Village Fireplace Shop in search of a part I needed for an outdoor fireplace. Crystal answered the call proving to be quite resourceful and knowledgeable. Impressed by such great customer service via the telephone , I decided to take a run down to Wyoming and low and behold, I was greeted by Crystal and Amanda who helped me hunt down the part that I needed. Got home, replaced the part and this fireplace works better than it ever did. Thanks girls!"
- Todd C.
"Amanda was a pleasure to deal with and very knowledgeable and respectful. Excellent Salesperson kind and considerate, trustworthy you know you called the right place. She hooked me up with Jason a 30 year napoleon fireplace expert. Jay is a very professional Technician He serviced my fireplace with great care and precision. Jay troubleshooted and got my propane fireplace working like new. Like as if it was his own. I highly recommend this family company. Thanks for outstanding service.
Tony V (Gentleman Farm and Sales)."
- Tony V.