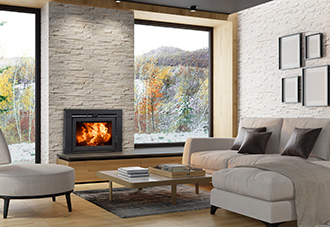 Wood Fireplace
Wood fireplaces remove the need for a masonry chimney, while still giving you the traditional hearth feeling of a wood burning unit. Boasting an airtight unit with a glass front, these units also remove the inefficiency and cold drafts that can come with owning a natural fireplace. These units are installed with a double-wall stainless steel pipe system that is heat rated for wood fireplaces.
Wood Inserts
Wood inserts fit into a natural fireplace opening and connect to a stainless steel liner, which runs down a workable masonry chimney. Offering both traditional and contemporary looks, these units are sure to please those who want to burn wood, but to remove inefficiencies that natural fireplaces may cost.
Available Brands: Napoleon, Regency, Ambiance, Supreme, Hearthstone, Jotul, Lopi.
Wood Stoves
Wood Stoves are an excellent choice for heating a home , cottage or work area. The cast stoves offer long burn times and long cool-downs, allowing for the owner to enjoy overnight comfort without having to build and relight a whole new fire. Steel stoves allow for quick heat-up and cool-down for those who want temporary heat, fast. Offering both non-catalytic and catalytic stoves in both traditional and contemporary styles, there's sure to be something for everyone!
Available Brands: Napoleon, Regency, Ambiance, Supreme, Hearthstone, Jotul, Lopi.
"Corbin and Mike did a great job installing our new gas fireplace. They were both polite, neat and professional. The installation was completed efficiently with no issues. They cleaned up afterwards, answered all our questions and walked us through how to operated our new unit. We are very happy with our whole experience dealing with Village Fireplace"
- Tom S.
"Amanda was a pleasure to deal with and very knowledgeable and respectful. Excellent Salesperson kind and considerate, trustworthy you know you called the right place. She hooked me up with Jason a 30 year napoleon fireplace expert. Jay is a very professional Technician He serviced my fireplace with great care and precision. Jay troubleshooted and got my propane fireplace working like new. Like as if it was his own. I highly recommend this family company. Thanks for outstanding service.
Tony V (Gentleman Farm and Sales)."
- Tony V.